Thiago Santos vs. Magomed Ankalaev UFC Fight Night 203
Thiago Santos vs. Magomed Ankalaev
The UFC Fight Night 203 will witness two of the best light heavyweight fighters locking horns inside the octagon. The fight vies two elite fighters – Thiago Santos and Magomed Ankalaev against each other, making it one of the most anticipated fights of 2022.
Santos is a former light heavyweight title contender and has a track record of beating tough contenders, including Kevin Holland, Jan Blachowicz, and Jack Hermanson. On the other hand, Ankalaev has an impressive win record, losing only one fight in his UFC career.
It will be an epic battle of the pros! While many believe Ankalaev may out-skill Santos with his combination and brute force, the Brazilian veteran has a wealth of experience and composure required to win apex events.
So who will win the UFC Fight Night 203? Will Ankalaev live up to the expectations? If you're excited about the match and want to know more about the fighters, you have landed on the right page. This article will discuss the odds, player stats, and other vital information regarding this match.
So without further ado, let's get started.
Player comparison
| | | |
| --- | --- | --- |
| Statistics | Thiago Santos | Magomed Ankalaev |
| Nationality | Brazilian | Russian |
| Height | 6 ft 2 inches | 6 ft 3 inches |
| Weight | 205 lb (93 kg) | 205 lb (93 kg) |
| Reach | 76 inches | 75 inches |
| Record | 22 wins/ 9 losses | 16 wins/ 1 loss |
| Knockouts | 15 | 9 |
| Current Ranking | 5th | 6th |
The above comparison chart indicates that both fighters are knockout champions, with a feasible possibility that we may witness one of them biting the floor after getting KO-d. While Ankalaev has never lost a match due to a knockout strike, Santos has experienced the same in three encounters.
The Brazilian veteran will be wary of this stat and take the offensive before the Russian hits the bull's eye. Santos will also want to use his reach advantage and attack Magomed without compromising his defense.
Can Santos rise to the top?
As we mentioned earlier, Santos enjoyed a top-tier status when he was at his career's prime. But after he lost the light heavyweight title match against Jon Jones, Santos experienced a decline in luck and rankings.
The Brazilian fighter tried to revive his rankings, but Glover Teixeira and Aleksandar Rakic defused his revival attempt. Santos lost by submission to Teixeira, while Rakic won by unanimous decision.
After three successive losses, Santos broke his losing streak against Johnny Walker in October 2021. The win has boosted Santos' morale and determination to get higher in the UFC rankings, and we will see a determined Santos entering the octagon on Saturday night.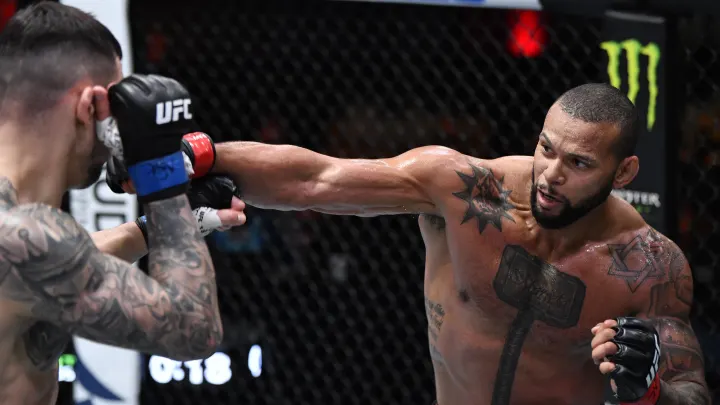 Santos' win over Walker propelled his record to 22-9, and his fans will love to see him edge past the Russian MMA fighter. Santos' 12-year career has seen him fight against some of the top contenders in the light heavyweight category.
Additionally, the Brazilian has the experience of fighting top contenders in high-pressure games, which is not typical for Magomed, as the Russian primarily fought against lower-ranked MMA fighters. These statistics place Santos in a better position, and we'll have to see how Magomed reacts in this kind of situation.
Will Ankalaev live up to the expectations?
Ankalaev started his UFC journey with a loss but has been undefeated since then. Although his UFC career has eight fights in total, his fighting skills have impressed UFC pundits and fans, elevating his status at the UFC circuit. However, he has never fought a top-ranked fighter, and Saturday's match will be a historical point of his UFC career.
Ankalaev comes into this match after his win against Volkan Oezdemir, the most formidable opponent he has faced so far in his UFC career. While it takes nothing from Ankalaev, the crunch of fighting the higher-ranked Santos may be a different experience for the Russian fighter.
However, many experts believe Ankalaev has the upper hand in this fight, especially his knockout skills. His combination of brute force and agility can become a nuisance for Santos, creating chances for Ankalaev to land his signature knockout blow. Additionally, Ankalaev is also honing his grappling skills, and we might witness his first victory via submission.
A victory against Santos can propel Ankalaev's UFC career and rank to new heights. Fans will be eager to witness how the Russian light heavyweight fighter handles the Brazilian veteran.
Likewise, Santos has also delivered a fair share of knockouts in his career and would be keen to add another win to his tally. His experience will be crucial in this game, given that a win can propel him closer to the number one position.
Who will win the UFC Fight Night 203?
According to experts, Santos may enter the UFC Fight Night 203 as the underdog. Ankalaev's impressive win record and brute force may create hurdles for the Brazilian veteran, and he might have to work hard inside the octagon to keep Ankalaev at bay.
Sports predictors also vouch on Ankalaev to win the contest, escalating the hype for this much-awaited UFC fight. However, Thiago Santos is a class act, and he has proved his prowess inside the octagon many times, meaning Ankalaev will have to use all his resources to edge past his opponent.
In short, the fight will be an absolute barnburner and a must-watch for every UFC enthusiast.
UFC Fight Night 203 details
Date: March 12
Location: UFC Apex, Vegas
Time: 10:15 pm ET
Where can you watch the UFC Fight Night 203?
The UFC Vegas 50 event is one of the most anticipated fights in 2022, and there is no better place to experience it than Roomba TV. Roomba TV is an IPTV streaming platform that offers the best IPTV services at affordable prices.
Besides watching UFC Fight Night events, you can also watch other sports live on the platform. Roomba TV also allows you to watch TV online or stream your favorite shows from the comfort of your home.
And that's not all! You can even become an IPTV reseller and earn money by providing your friends or families with IPTV subscription plans.
So what are you waiting for? Get your Roomba TV subscription today!